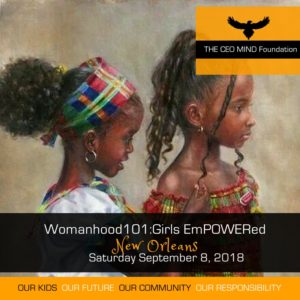 On Saturday, September 8, 2018 THE CEO MIND Foundation will hold its Womanhood 101: Girls EmPOWERed program from 9:00 am until 12:00 pm in New Orleans, Louisiana at The New Orleans Charter Science and Mathematics High School at 5625 Loyola Avenue, New Orleans LA 70115. Pre-Registration is Required. Only 20 Spaces Available! Continental breakfast and lunch will be provided.
The Womanhood 101: Girls EmPOWERed program, facilitated by powerful women of color with the purpose of positively impacting our girls, unites black girls ages 10– 14 to empower one another, activate awareness and grow in power together! The Womanhood 101: Girls EmPOWERed program provides a safe place to learn and build greatness!
Our Objectives:
To build self-awareness and social emotional competencies through understanding self and others.
To cultivate self-respect and personal responsibility.
To promote youth entrepreneurship, STEAAM enrichment and making informed choices.
If you would like to volunteer your time to impact and empower our girls through our Womanhood 101: Girls EmPOWERed initiative, contact Christina via email at ce@theceomind.org and specify if you would like to assist as a Guest Speaker, Check-in/Greeter, Group Facilitator, STEM activity leader, Decorations & Food or Media Promoter. If you would like to contribute financially or in some other way, please use the links below. We thank you for your support of our mission!
If you would like to contribute to help with Womanhood 101: