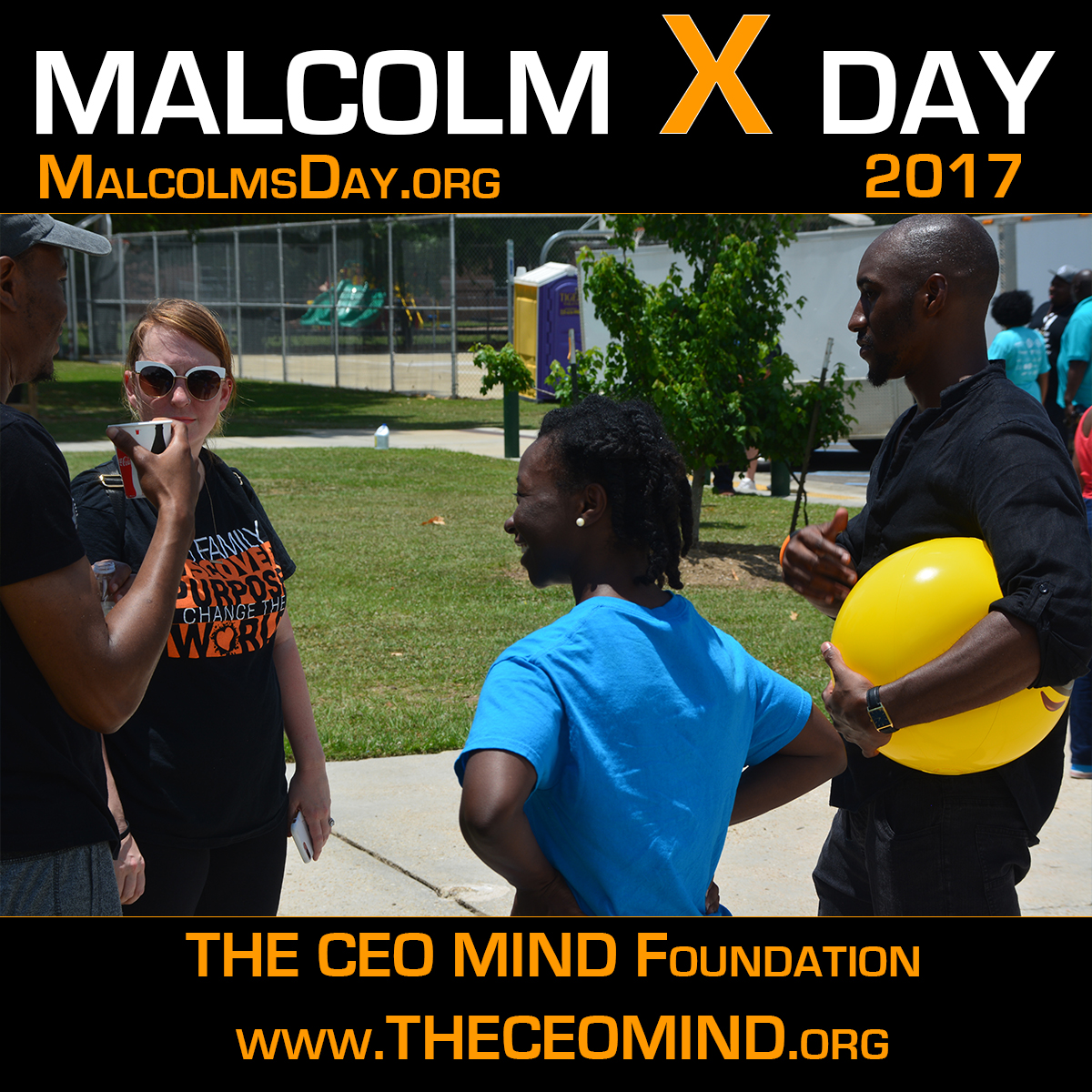 The CEO MIND Foundation branded and organized Malcolm X Day & Malcolm X Day Celebration weekend. In a time as critical as now, not only did we want to continue doing the work we do on a regular basis of engaging, empowering and helping the community build for itself, but we also want to pay tribute to Malcolm X as a hero to the world. Malcolm X lead a life not void of having to overcome struggles, a life filled with evolution and learning. Malcolm X lived a large portion of his life fighting for equality, freedom and educating blacks (and others) on what needed to be done in America if indeed we wanted to use the term "Land of the Free". Many of the ignorant & uneducated or racist don't like Malcolm X and they call him divisive, some even have the nerve to call him violent or even a 'domestic terrorist', many of whom do so only because Malcolm believed that blacks should stand up for themselves and not take the criminal, violent and unjust treatment they were being given by America and many of it's white citizens. Malcolm's belief and bravery was(and still is) a direct threat to the system that oppressed (and still covertly) blacks in America and across the planet. Malcolm was wise, and intelligent beyond his years and was also one of the greatest orators to walk the planet of earth. Malcolm spoke truth, he didn't ignore the elephant in the room , Malcolm was a black man who stood for black people and wasn't afraid to say it and live by it. While the American system and many whites were against blacks, Malcolm advocated for blacks to do what was best for them and their community and not necessarily what the system dictated they do. For this, many who do not actually want to see change in the world had a problem with him and will always have a problem with him, even though he believed that men or men, people are people, that their are good people and bad people of all races. Malcolm lived his life for his people, and gave his life for his people, thus we celebrate and will continue to celebrate Malcolm X Day on May 19th each and every year.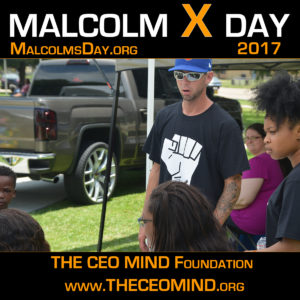 This year's Malcolm X Day weekend included two impactful events to celebrate the life and contributions of Malcolm X that were visibly a representation of Malcolm X's quote "There is no greater good one can do than to love him/herself and love thy brother and sister, and build together for the good of their community and people".
Friday, May 19th the members of CEO MIND Foundation hosted the Malcolm X Day Celebration Mental Mixer and Listening Event at Club Culture where guests enjoyed listening to a selection of Malcolm X's most powerful speeches and a compilation of empowering music. This event brought together a diverse array of members of the community who are serious about making a change and doing the work necessary for positive impact. Serious but joyful conversations were the normal of the evening, and the words "I am Powerful!" could be heard throughout the night as guests raised their right fists in the air as a sign of unity, power, solidarity and strength in community. Many who came, arrived alone, but by the time they departed they knew they were not alone in this fight for Our Community, Our Kids & Our Future.
Saturday, May 20th The CEO MIND Foundation hosted a Community Cookout at Gus Young Park where hundreds of guests from diverse backgrounds, families, community members and leaders enjoyed free food, games, music, vendors and strengthening community relationships. The East Baton Rouge Parish Library, Miracle Grow, The HIV Testing Mobile and The CEO MIND Foundation Programs provided services, information and freebies for everyone. Mayor Sharon Weston Broome, Representative C. Denise Marcelle, and Councilman LaMont Cole were a great presence and showed their support for building community and strengthening relationships through positive partnerships for our kids, our future and our community. Through the life of Malcolm X and the motto of THE CEO MIND Foundation we recognize that it is our responsibility to build, create and unite! Throughout the day the words " I AM POWERFUL!" could be heard from the crowds as we recognize how WE are unstoppable when we as a people unite for the people! Join the "WE": A Movement For The People, By The People.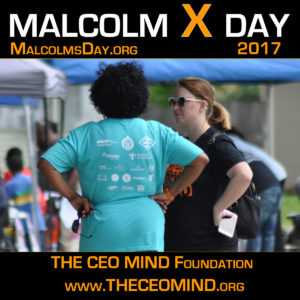 Coming together to make The 2017 Malcolm X Day Celebration possible took a lot of time, people and resources; the diversity in the group included people of various races and backgrounds who are serious about actually solving problems and making the community better, and not just spewing rhetoric or divisive language to push their personal agenda forward.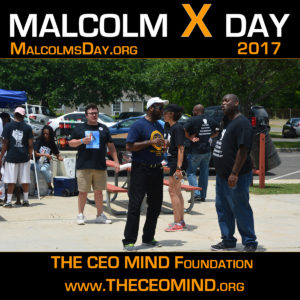 We invite all who want to see the world change for the better to reach out and join us for 2018 Malcolm X Day Weekend, but to also join us in doing the work intentionally everyday necessary to build for Our Community, Our Kids and Our Future.
Please use the links below to contact us about any inquiry.
www.MalcolmsDay.org
Other pictures from the event can be found below: